Upcoming Performance Schedule

Saturday
May 21st 2022 10:00am

Noah Gabriel
Join us for Saturday Morning Cafe. The Kiss The Sky
Saturday Morning Cafe is an Live Music Artist Showcase that takes place on the Are You Experienced Stage.The store remains open for business although it is not unusual for many to show up solely to enjoy and support the artist performing. Kiss The Sky augments the show by offering up free coffee and local area supplied cookies and or donuts.
Saturday
June 4th 2022 7:00pm
Vacants/
Curse of Consciousness/
Nathan and Jason
Vacants and Nathan and Jason both reside from the east side of Aurora. Curse of Consciousness resides from Montgomery primarily. Nathan and Jason provide a very warm and innocent folk sound filled with vibrant colors. Curse of Consciousness has some truly insane repertoire with classic instrumentation from the 60's and 70's including organ. Vacants are all about
a dark sounding tone. Indie rock with lots of jazz and psychedelic inspiration.
Saturday
June 25th
2022
7:00pm
Tar Tides/ The Tracies/ Los 67's
Heading in from Aurora is Tar Tides and Los 67's. According to Tar Tides, themselves, expect a "sleepy rock" sound. Coming in all the way from Cicero is The Tracies, a latino psychedelic band that will for sure knock your socks off. Last up for the night is Los 67's, who have previously played at Kiss the Sky; debuting with Vacants back in August of 2021. Los 67's provide a very classic sound in terms of punk. They are The Stooges of today!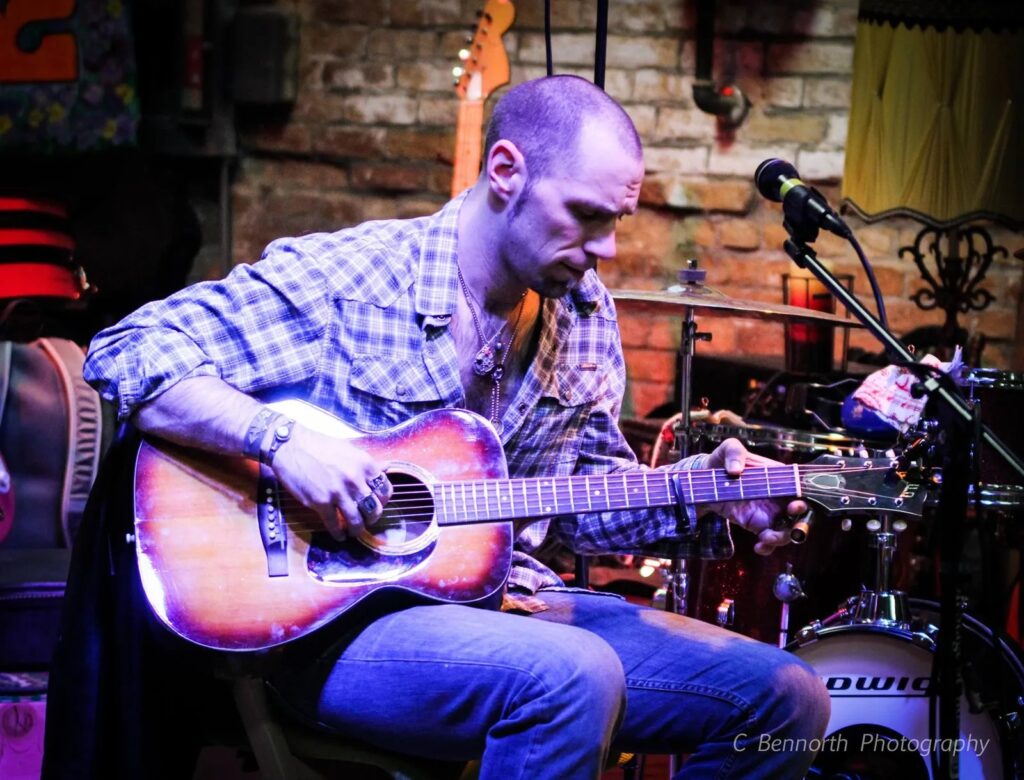 Over the past 25 years, Kiss The Sky has played host to more than a 1,000 performances and over 2,500 acts, ranging in types of music from Blues, Classical and Jazz to Hip-Hop, Country and Metal. The Are You Experienced Stage has been visited by the likes of Funktional Family, Backwoods Bunny Fight, Dick Smith, Noah Gabriel, Andrea Dawn, Ryan Carney, Dave Ramont, Lucky Boys Confusion, Jim Peterik & The Ides of March, Pat DiNizio, 15 Minutes Late, Chris Duarte, Dirty Dan Buck, Robbie Fulks, Chicago Farmer, Rebel Soul Revival, Greg Boerner (pronounced "burner"), Gross National Product and the incomparable Dallas Motorcade. More names will be added to this listing later on as Steve takes a look back on the performance schedules buried deep in the bowels of the Kiss' underground records vault. There's a ton more!

Dateline … May 2022

As of this writing, things are moving forward and Live Music is happening and more and more shows and events are being planned and scheduled throughout the world. Kiss The Sky is moving forward with live music as well. We are walking and trying to move at a more deliberate pace while edging back towards normality.

For more detailed information concerning any particular show, be sure to check out our Facebook Page and click on Events, especially as we get closer to the date of the show.
Upcoming Events
| | | | |
| --- | --- | --- | --- |
| Friday | June 10th, 2022 | 6:00pm – 9:00pm | Second Friday Gallery Opening in collaboration with Water Street Studios |
| Saturday | June 11th, 2022 | 12:00pm – 2:00pm | Skateboard painting in Water Street Studio Gallery |
| Sunday | June 26th, 2022 | 7:00pm – 9:00pm | The Music Series; A music and art demonstration |
| Friday | July 8th, 2022 | 6:00pm – 9:00pm | Second Friday Gallery Opening in collaboration with Water Street Studios |
| Saturday | July 16th, 2022 | 10:00am – 2:00pm | Artist Chat. Coffee and Music from 10am-12pm. Artist chat from 12pm-2pm |
| Sunday | July 24th, 2022 | 7:00pm – 9:00pm | The Music Series; A music and art demonstration |
| Friday | August 12th, 2022 | 6:00pm – 9:00pm | Second Friday Gallery Opening in collaboration with Water Street Studios |
| Saturday | August 20th, 2022 | 10:00am – 2:00pm | Artist Chat. Coffee and Music from 10am-12pm. Artist chat from 12pm-2pm |