---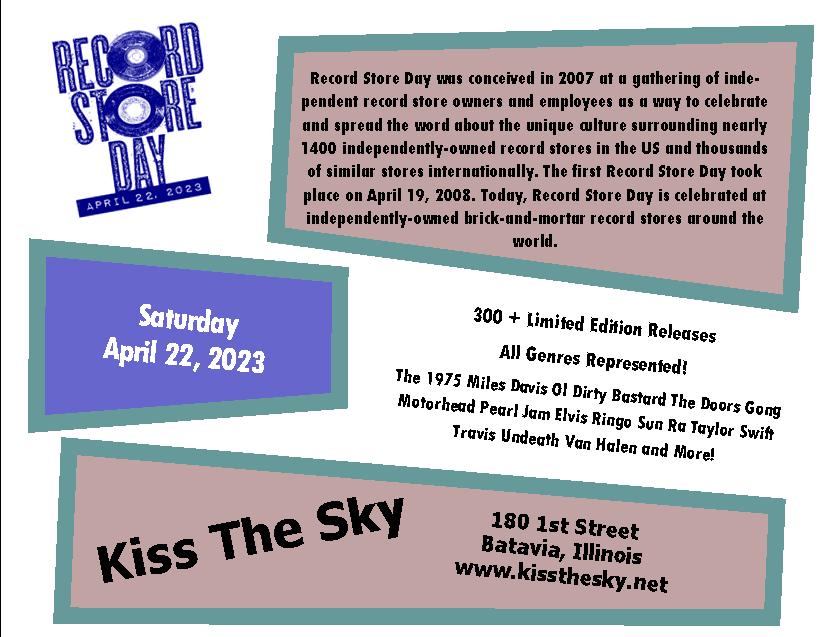 Record Store Day 2023
Overwhelmingly, when surveyed, the customers that have participated in our Record Store Day celebrations over the years indicated that they would like to see us return to the pre-Covid era of how we handled the lining up and opening for Record Store Day, while keeping our procedures for the Black Friday celebration the same as we did it during the Covid era. Consequently, that is what we have done. For Record Store Day, which historically (before Covid) has taken place on (typically) the third Saturday in April, we are conducting the "line up" part of the celebration on a "first come first served" basis, which is how it was done prior to 2020.

However, I would be lying to you if I didn't admit that I am questioning that decision due to the fact that we are looking at unusually cold weather for the upcoming weekend and that is going to be a pain for anyone who decides to "camp out" in an effort to get a great position in the line up. Consequently, we are going to adjust a little bit and here is what we're going to do.

In the first place, we are going to stick with the "first come first served" method of lining up. In other words, we will let those in on a basis of what their position is in the line up that begins as early as Friday Night at 10:00pm and continues on into Saturday morning and ends after we open and the lines dissipate.

The Modified FCFS Basis
However, Steve will visit the lined up people two or three times during the course of the night/morning and will pass out numbers to those that are in line allowing them the opportunity to go back home or grab a bite to eat somewhere that may be open. When the store opens at 8am Saturday morning, people with numbers will be let in first in numerical order. The two or three times for Steve's visit to pass out numbers is not known in terms of what time, but it will be spaced out and done at a time and frequency that makes sense with all things being considered.

For what it's worth, given the current situation and the fact that our weather here in the Midwest ain't exactly like it is in San Diego, we are giving serious consideration to conducting the line up in the future as we did during the Covid era for both Record Store Day and Black Friday. We think that we may have learned something here. We'll decide on that later.

In summary …
Record Store Day this year is Saturday, April 22, 2023
Kiss The Sky will be open for business at 8:00am that day
People in the past have lined up ahead of time to be let in on a First Come First Served (FCFS) basis
For this year's RSD, we shall employ The Modified FCFS Basis as discussed above
Kiss The Sky normally closes at 6pm on Saturdays … we'll play this one by ear and close when we close at 6 or sometime later depending upon how busy it is at 6pm

Record Store Day is a celebration of the Independent Record Store. It was started some 15 plus years ago by a group of music lovers, record store people and people just like you. This page here is dedicated to talking about how
we (Kiss The Sky) participate in the celebration.

For those of you that are not familiar with what Record Store Day is all about, and it's wonderful history, please head over to www.recordstoreday.com.
---
There is no Virtual Line Lottery this go around to participate in so there's no need to send an email for such. However, if you have any questions, problems or concerns, feel free to get in touch. Here is an email for you to use if needed:
stevewarrenfeltz@gmail.com