---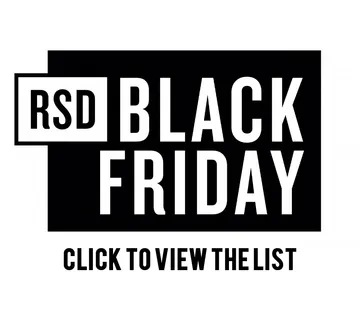 Black Friday … November 24, 2023
As encouraged by you, our customers, we are instituting a Virtual Line Drawing for this year's RSD Black Friday event.

Consequently, if you are interested in participating in the drawing, shoot us an email at:
stevewarrenfeltz@gmail.com
Please include your Name and Phone Number in the email.
Placing VLD Participation in your email Subject Line would be helpful as well.
The Participation Cutoff Date is set for Monday, November 21, 2023 … so … the sooner the better.

The Virtual Line Drawing will work as follows:
* the names of those participating in the drawing will be placed in a container and drawn sometime on Tuesday, November 22
* placement in line will be assigned in order that the names are withdrawn
* the results of the drawing will be posted on the Kiss The Sky Facebook Page and this Website Page sometime on Tuesday Evening or Wednesday Morning at the latest … we may even do an Instagram posting as well.

*** Click Here for the Virtual Line Drawing Results ***

Please Note that a link for the results will be made available Wednesday Evening. The original Drawing Results Listing is being modified to include approximately 18 entrants that were overlooked due to an email program glitch. For more information on that occurrence, check out the very recent Kiss The Sky Facebook Post discussing the is;sue.

Since we are conducting a drawing for placement in line, there is no need to "line up" early although you can arrive as early as you want. There will be someone at the store around 6am but probably no earlier than that.

The store will be open for business at 8am on Black Friday.
If the weather is bad, we'll let people come in earlier than 8am of course.

As a side note … Kiss The Sky has participated in Record Store Day and RSD Black Friday events since its inception. And, since the first event took place way back in April of 2008, we have followed a practice of bringing in at least one copy of every title made available with the exception of a few that may not have been appropriate due to the very regional nature of the band. How many pieces of a particular title we received is really dependent upon a simple set of facts … how many units are being produced of any particular title and how many in total are being ordered by those indie record stores that are participating in the event. I believe that it's as simple as that. Consequently, we never know how many we may be getting until the product arrives at our store, which can be as late as a couple of days before THE DAY. Hopefully, for the most part, it is sooner than that and certainly not later!

In summary …
Black Friday takes place this year on Friday, November 24, 2023
Kiss The Sky will be open for business at 8:00am that day
We are conducting a Virtual Line Drawing for line placement assignment.
Kiss The Sky will stay open until 8:00pm as is normally the case … maybe even a little later if necessary.

EMAIL for participation and general information:
stevewarrenfeltz@gmail.com

Record Store Day is a celebration of the Independent Record Store. It was started some 15 plus years ago by a group of music lovers, record store people and people just like you. This page here is dedicated to talking about how
we (Kiss The Sky) participate in the celebration.

For those of you that are not familiar with what Record Store Day is all about, and it's wonderful history, please head over to www.recordstoreday.com.
---
There is a Virtual Line Lottery this go around to participate in our RSD Black Friday event. If you have any questions, problems or concerns, feel free to get in touch. Here is an email for you to use if needed, which is also the email to sign up for the Virtual Line Lottery:
stevewarrenfeltz@gmail.com